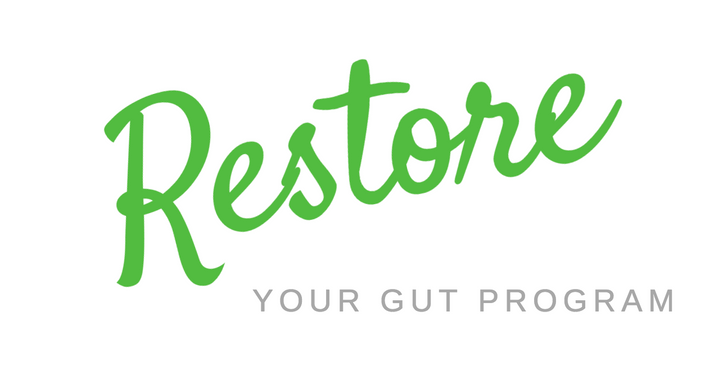 The Restore Your Gut Program
Are you done struggling with bloating, pain, cramping & knowing what the heck to eat?! Go from symptom-ridden & confused to at ease and confident in 30 days!
Enroll in Course
Are you ready to FINALLY know what foods to eat to improve your digestion and put a stop to countless bathroom visits and other nasty IBS and IBD symptoms?
You're in the RIGHT place, gorgeous!
I can't tell you how often I talk to women who spend their nights surfing through Google trying so hard to figure out what's wrong with their digestion and what foods and supplements can fix it -- but see little to no long-term relief from anything they do.
They tell me, "I've tried cutting out dairy and gluten, I think it helped, but I am still having symptoms and don't know what else to do - there are SO MANY OPTIONS!!"
They also say in frustration, "I hate how I feel like I'm the only one going through this - my friends and family can eat ANYTHING and feel fine but I can't even digest kale!! I'm so frustrated and alone."
Can you relate?!

If so, Restore Your Gut is perfect for you. In this four-week program, I will help you go from lost, confused, in pain, and alone to confident, knowledgeable, at ease with your body, and feeling fully connected to others just like you.
With a restored gut, you'll soon be waking up pain-free (yes, really!), eating with EXCITEMENT not fear, having MUCH more energy to take care of your family and job, sleep like a baby, and feeling CONFIDENT that you are doing the EXACT right things for your digestion (no more second-guessing yourself). Many Restore Your Gut members feel a notable difference in the very FIRST WEEK...and what you'll learn are things you can carry with you the rest of your life to feel your VERY best.
Get ready for a calm and happy tummy in 30 days or less!
Your Instructor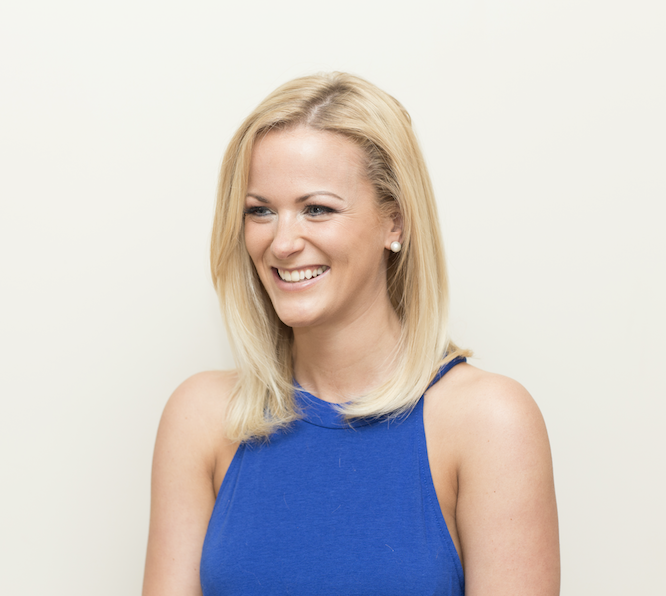 I've been exactly where you are right now. Just 8 years ago, I was sick. So sick with an autoimmune disease called Ulcerative Colitis. And I had no idea what I needed to do to feel better. Faced with surgery if my next round of medications didn't work, I decided there had to be some way to feel better.
So, I studied, and studied, and studied to find a way to heal my gut so that I could experience life and love for food again. I went from near-surgery in the ER to off all my medications and in complete remission within 6 months by making the exact changes I'll be showing you throughout this program.
Today, I am a functional health maven certified by the Institute for Integrative Nutrition and Functional Diagnostic Nutrition and I work with determined women who want to find peace with their body, life, and food again.
I help my clients to…
Find simple, practical, but powerful ways to live a more balanced life (this is my sweet spot)

Fine-tune their digestion, hormones, thyroid, and mind and step into their full power

Turn their health challenges into an incredible growth and learning opportunity

Enjoy food without feeling deprived or having to spend hours on complex recipes

Have a hand to hold during the "bad days" and a cheerleader on the good days (my client say I treat them like they're my babies!)

Cut through the overwhelm and BS of healthy living

Help their entire families adopt a healthier way of living

Develop deep trust in their own intuition and voice so they can become their own best health advocate and TRUST that they are safe and in control

Have TONS of fun along the way!
Restore Your Gut Includes: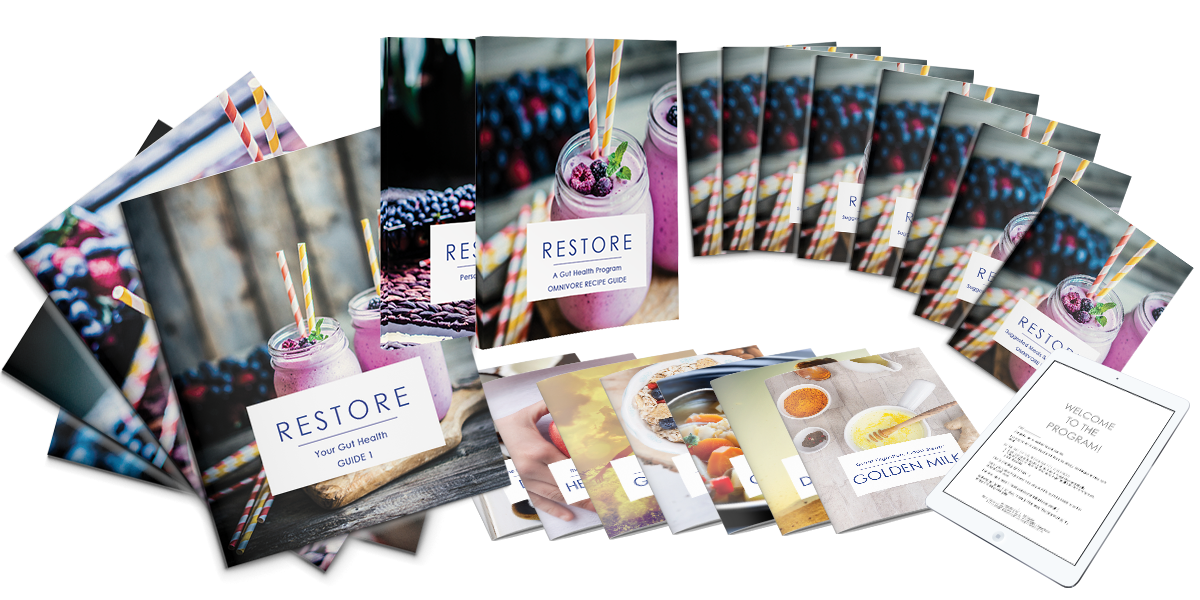 Module 1: 4-Week Meal Plan
As soon as you enroll, you'll receive a complete day-by-day meal plan featuring gut healing foods and batch prepping tips to make the next 30 days SUPER easy, delicious, and exciting. No more creating shopping lists or giving into takeout food because you just don't know what to make.
3 daily meals plus snacks and drinks for every day

Weekly printer-friendly shopping list

A mixture of plant-based and animal-based proteins

Various veggies and proteins, never the same ole' salad!

Always gluten-free, grain-free, dairy-free, soy-free and sugar-free
By the end of Week 1, you'll be have complete confidence in what to eat, you'll have saved TONS of time meal prepping so you can spend more time enjoying your food and time with family, and your digestion will feel SO much better (past members say this was the biggest value to them - to feel better SO quickly!)
---
Module 2: Gut Health Basics
This is your go-to guide for what you need to know about how digestion really works... and how it can get out of whack. You'll FINALLY have answers as to why you have gut health issues, the most common triggers to IBS and IBD so you can confidently avoid them, and lots more information that I and so many others before you wish we knew early on in our own health journeys.
What gut dysfunction is all about

Why eating foods like gluten and dairy make us sick...and tired...and depleted of nutrients

How gut issues can be made worse

Why now is the time to work on gut health
By the end of Week 2, you'll finally understand what's going on in your body and with your digestion, you'll have gained compassion for your body and feel loving energy to restore it back to normal function, and you'll FINALLY have a straightforward roadmap so you know what to do and not to do to improve your digestion. Take a deep breath, relax, and settle into this new reality, beautiful!
---
Module 3: The Best and Worst Foods for Gut Health
Hate wandering around the grocery store or reading restaurant menus and not knowing what you can have or what will trigger a debilitating symptom? That fear stops NOW! In Module 3, you'll learn the top foods contributing to the majority of digestive health conditions, strategies to avoid them, and what to add into your diet instead so that you feel not deprived by indulged with gut-healing goodness that's delicious, filling and calming to your gut!
A list of the worst inflammatory foods to remove from your diet (and how)

Gut loving superfoods to restore your gut

Superfoods for even deeper gut healing
By the end of Week 3, you'll know why certain foods cause many gut health issues and will have complete confidence to avoid them, you'll have stocked up and tried some of THE best gut healing SUPERFOODS (these are the same ones I take EVERY day to keep my IBD in remission) and you'll have completed the roadmap to restoring your gut! Yes, in just 21 days you'll have all of this information...the same information that took me 3+ years to gain myself...and you'll be feeling soooo much better by this point!
---
Module 4: BONUS Guides!
As an exclusive member of Restore Your Gut, you'll get access to my four top guides for FREE that will put you on the fast-track to even deeper gut healing. These go beyond dietary tweaks and look deeper at the function of your microbiome (the bacteria in your gut), the power and purpose of detoxification (let's remove those stinkin' toxins!) and money-saving tips you can implement right away.
These guides ALONE are worth more than the cost of this program, so even if you feel you've got some of the gut health basics down already, these bonus guides will kick up your know-how and gut health by 10x!
The Role of Probiotics and Prebiotics (And When to Use Them)

How to Detox Your Kitchen Top to Bottom

How to Eat Healthy on a Budget: Real-Life Money Optimization Tips

Gut Healing Trifecta Supplement Guide
By the end of Week 4, you'll have squeaky clean digestion (hello, regularity!), you'll know how to feed your gut with good bacteria and fiber (yes, this matters!) with my favorite supplements and you'll gain my money saving tips so this journey can be sooo affordable (fact: eating healthy doesn't have to be expensive!).
The moment Restore Your Gut members gain access to these guides, they're ECSTATIC to learn these simple but powerful and practical tips...it fast-tracks them to deeper healing by addressing many underlying causes of digestive health challenges.
---
Consider me your on-demand gut health expert for the next 30 days and beyond.
Here's What Past Members Have to Say:
"I'm already on day 20 and am feeling great! I've seen a huge improvement in my digestion. My bowel movements are a lot better and I don't crave as much chocolate or sweets now." - Erica W.
---
"I love that the program specifically targets gut health and I can already tell the difference in my body. I felt super energetic every day without having coffee #MIRACLE. I love that I can slowly make daily changes and see results like this." - Anna C.
---
"After working with Kristin in her program, I now feel very in control of my eating decisions and how its making me feel and its getting a lot less hard. People have been remarking on my control, but honestly, it feels easier than it ever has!" - Julia L.
---
"I love the recipes and meal planning which has helped tremendously. This program gave me a lot of different tools that I can continue to use to help with inflammation but also to treat my stomach the way it should've been treated years ago." - Alyssa S.
A Natural Gut Health Transformation in 30 Days
Take a moment to imagine what's possible for your gut health:
...what would it be like to wake up each morning with a flat belly and an appetite for good food?

...to achieve remission or eliminate symptoms that have been bothering you for years with ease?
...to no longer struggle to figure out what you should feed your body and instead know with confidence what's best for your digestion?
I want you to know that you REALLY can have it ALL the MOMENT you join Restore Your Gut. Take a deep breath, you've made it!
Get ready to say goodbye to:
Bloating, cramping, or gas

Irregular bowel movements (potty talk is encouraged in this program)

Recurring acne or rashes

A fear of being anywhere without a bathroom

Developed a negative relationship with food because of digestive upset

Restless nights, often waking up between 2-3am

Terrible energy during the day
In this program, you'll get a step-by-step roadmap that you can implement IMMEDIATELY. In just one hour per week, you'll learn the fundamentals that will get your gut health back on track so you can feel normal, healthy and happy again!
This program is unlike ANYTHING else I've seen out there. Why? I've been exactly where you are right now, and I designed this program to address gut health in a practical and easy-to-follow way so that you can truly finish the program feeling a world of difference.
When you enroll, you'll be joining the ranks of other past members who felt relief in as little as a week and are continuing to implement these tips months and years later.
Are you ready to start making pain-free, happy digestion a non-negotiable in your life? Soon, it will become your new normal.
"I am now feeling so hopeful about my health! I'm so thankful for having you guiding me through all of this. I'm healthier than I've ever been before and my health has truly done a 180 since joining your program." - Lauren Y.
Frequently Asked Questions
When does the course start and finish?
The course starts as soon as you enroll and ends four weeks thereafter, however you get LIFETIME access! It is a completely self-paced online course, so if you need more time to finish it, by all means, take it! The tips and information in the course are designed to be used for the rest of your life so take your time so you can implement them right.
How long do I have access to the course?
How does lifetime access sound? After enrolling, you have unlimited access to this course for as long as you like - across any and all devices you own.
What if I am unhappy with the course?
I would never want you to be unhappy! If you are unsatisfied with your purchase, contact me within the first 10 days and if you have been implementing the steps in the program and have not seen results, I will happily give you a full refund.